Exceptional Accommodation Standards
We have designed Green Orange Villa with the discerning traveler in mind, the visitor that is looking for a luxury accommodation in Chania combined with eco-friendly values – beyond the standard amenities one can find in most hotels in Chania. This why Green Orange Villa is one of the most luxurious farm lodging villas in Crete. Green Orange Villa expands in a plot of 4.660sq.m right in the middle of magnificent orange tree grooves and lemon forests. The villa itself is located in a private 2.250sq.m plot, surrounded by beautiful gardens and young fruit trees. Green Orange Villa is engulfed in the heavenly scent of the orange and avocado blossoms wafting from the certified organic trees of the villa. The dense organic orange and avocado trees combined with a spectacular flower garden add an ethereal beauty and simplicity to this exceptional vacation rental villa in Chania, Crete. The villa itself offers an open concept living space where you have your own private garden and a private stunning pool ingeniously orchestrated to create a feeling of understated elegance and luxury.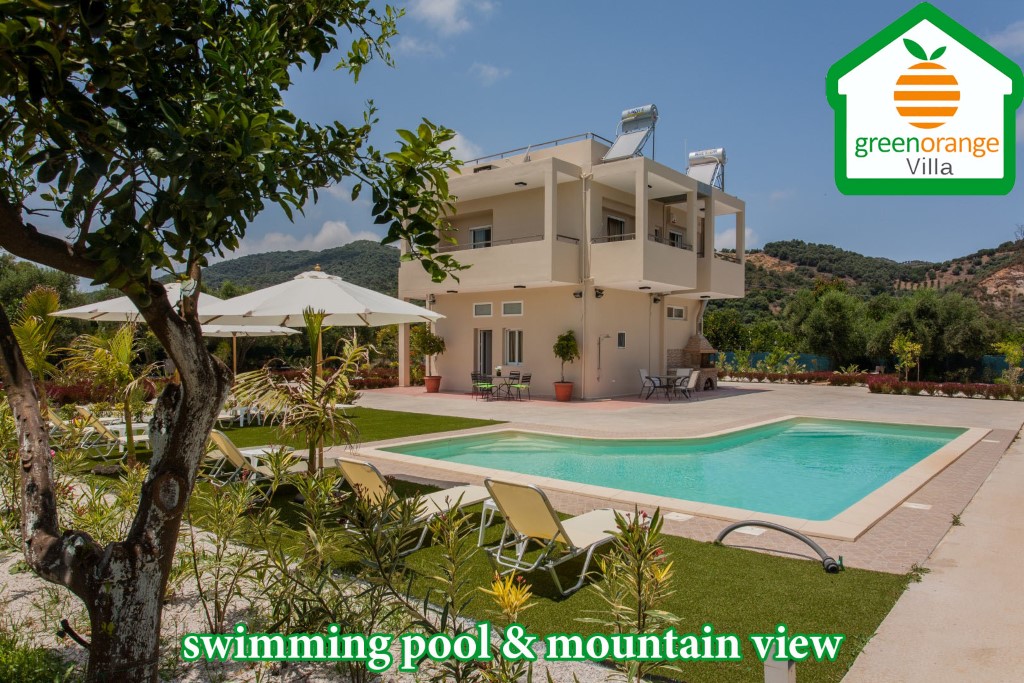 Perfect Location
Green Orange Villa is located only 6.5 km from Platanias Chania in the traditional village of Koufos, near the famous village of Alikianos next to the beautiful Lake of Agia, just 12km from the charming city of Chania, Crete. The Agioi Apostoloi village and the well-known Golden Beach is almost 8 km away while the Platanias seaside resort is just 8.5 km away. The breathtaking Green Orange Villa is the ideal starting point to explore Omalos plateau (35 km), Samaria Gorge, the charming old city of Chania and the Venetian Lighthouse (11 km).
Discover interesting places to visit and things to do during your stay in Green Orange Villa.
Rediscover the Rhythms of Nature
For the travelers who associate luxury with the sense of authenticity and sustainability, a touch of premium accommodation design and a personal contact with the rhythms of the Cretan nature, Green Orange Villa will be the right place. The Green Orange Villa's farm contains amazing Cretan and Asian birds like colorful pheasant, flies ducks, geese and may other interesting species which all are naturally raised. At Green Orange Villa apart from our bird's farm we focus on establishing soil health by feeding the soil through organic matter and mineral soil amendments. We do not apply any pesticides on the soil, no fungicides or insecticides. Here you can learn about the ways to grow your soil, create an organic garden and discover cool facts about our heritage farm animals.
Green Orange Villa. You are invited to discover luxury and pleasure.